Alethea is an English name derived from Greek
αληθεια (aletheia)
meaning "truth". This name was coined in the 17th century and may be related to Althea.
I didn't find very many refrences when I looked up famous Aletheas but here are a few ladies by that name that you might have heard about or might find interesting: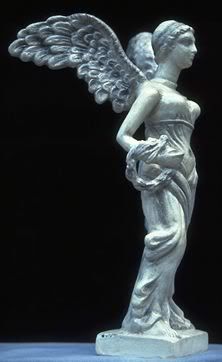 In Greek mythology, Alethea (or Altheia) was the daughter of Zeus and Arete, the personification of truth and the nurse of the infant Apollo.
Alethea Howard, Countess of Arundel (1585-1654)
was the wife of
Thomas Howard, 21st Earl of Arundel (1585-1646) who was an ardent art collector (having over 700 paintings in his collection) and prominent English courtier during the reigns of James I and Charles I.
She was born Lady Alethea (or Alatheia) Talbot the youngest daughter of
Gilbert Talbot, 7th Earl of Shrewsbury
and his wife
Mary Cavendish
; and the sister of two other countesses:
Mary Herbert, Countess of Pembroke
and
Elizabeth Grey, Countess of Kent
. She married in September 1606 and gave birth to four children:
James Howard, Baron Maltravers
(
1607
-
1624
),
Henry Frederick Howard, 22nd Earl of Arundel
(
1608
-
1652
),
William Howard, 1st Viscount Stafford
(
1614
-
1680
)
, and Lady Mary Anne Howard
(c.
1615
-
1658
).
Along with her sister Elizabeth, and their cousin
Arbella Stuart
, she performed in a
masque
celebrating the investiture of
Henry Stuart
as
Prince of Wales
in
1610
.
Alethea's husband bought many pieces from her art collection using her money and left the collection of over 600 paintings and 200 sculptures to her on his death. Like her sister, Elizabeth, Alethea was interested in the use of herbs and other foodstuffs for medical purposes. Her recipes were published under the title
Natura Exenterata.
Little else is known about this fascinating lady.
Alethea McGrath
is an
Australian
actress who played the role of Jocasta Nu in
Star Wars Episode II: Attack of the Clones
. She is also known for her roles on television, playing Dot Farrar in
Prisoner
and two parts in
Neighbours
: Mary Crombie from 1989 to 1990 and Lilly Madigan in 1998.
Alethea McGrath is an Australian actress who played the role of Jocasta Nu in Star Wars Episode II: Attack of the Clones.
I never used to like the name Alethea until I met a girl who did not pronounce her name like uh-LEE-thee-uh but like uh-LAY-thee-uh. Then I thought the name was just beautiful and fitted the girl's sweet and bubbly nature.
I added Alethea to my favorites list where it currently resides outside of my top 20 favorite combos as Alethea Spring, just a bit of beauty and whimsy and one of my guilty pleasures! :)
Know anyone named Alethea? What do you think of the name? Will this name ever catch on - why or why not?