Silas is a short form of the Romas name Silvanus which is derived from Latin
silva
"wood, forest". Silvanus was the Roman god of forests. Silvanus appears in the
New Testament
belonging to one of
Saint
Paul's companions who was also called Silas.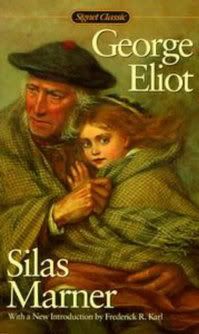 Several literary characters bear this name including George Elliot's title character
Silas Marner
, Charles Dicken's Silas Clegg in
Our Mutual Friend
, and William Dean Howells' protagonist in his classic novel
The Rise of Silas Lapham
.
Ben Kingsley stars as Silas Marner in BBC's

Silas Marner: The Weaver of Raveloe
Authoress Lori Wick has a character by this name in
A Song for Silas
. And author D.H. Bates's
My Uncle Silas
was filmed as a BBC TV series in 2000.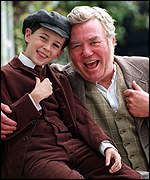 Actor Albert Finney stars as

My Uncle Silas
I have heared Silas used more often lately at least in my small social circle. It only ranked #
346 in America for 2007.
I enjoy the old-fashioned charm of this name (you'll find I use this phrase a lot!) and the strong masculine sound of it. It's lack of use over the years also helps to give is a fresh unused sound.

I first started to like this name a couple years ago when I gained a fad for masculine names ending in -as or -us (such as Jonas, Zacharias, Elias, Josias, Atticus, Titus, Nicholas, Tertius, Septimus, Cassius, Amadeus) .
When I also found it on my family tree I added it to my favorites list. I combined it with names such as William, Abel, Welcome, Ciaran, Andrew, Pearce and Geer. My current favorite Silas combo is Silas Abel but that is subject to change at any time.
Silas is on my short list of names I'd actually use for a son though it currently ranks outside my top ten favorite combos.


"And at midnight Paul and Silas prayed, and sang praises unto God: and the prisoners heard them." -Acts 16:25 KJV

Silas, a handsome name, and despite it's old Biblical connections and literary usage, a fresh choice for parents today.

What are your thoughts on Silas? New and fresh or old and outdated? Used too much or not enough? More likely to me a first name or middle name?